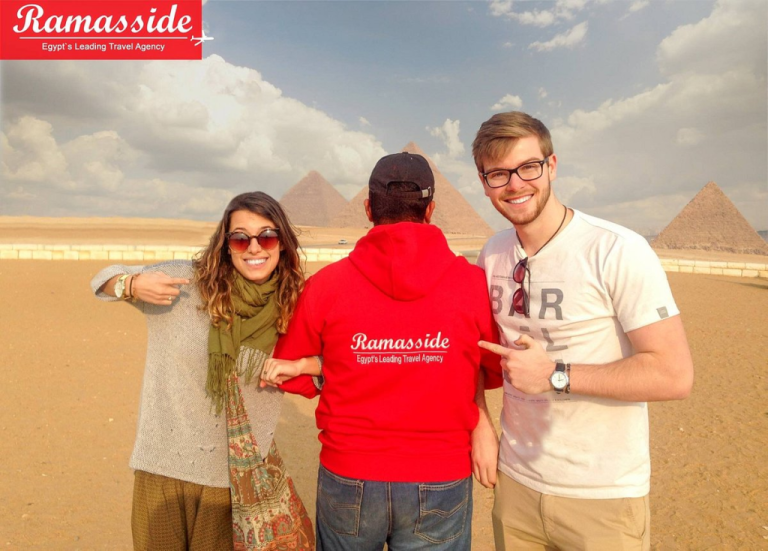 Join us for an awe-inspiring journey to the Great Pyramids of Giza, one of the Seven Wonders of the Ancient World. This 3-4 hour tour, available daily, offers a unique opportunity to explore these timeless monuments and delve into the heart of Egypt's ancient history.
Pickup Details:
Time: 8:00 am (flexible to accommodate your schedule).
Tour Highlights:
Great Pyramids of Giza: Witness the magnificent Pyramids of Khufu, Khafre, and Menkaure. Learn about their construction, history, and the pharaohs they were built for.
The Sphinx: Explore the Sphinx, a mythical statue with the head of a human and the body of a lion, shrouded in mystery and legend.
Valley Temple: Visit the Valley Temple associated with the Pyramid of Chephren, significant for its role in the mummification process.
Tour Pricing:
Single: $90
2-3 Persons: $60 per person
4-6 Persons: $55 per person
7-10 Persons: $50 per person
Why Choose This Tour?
Your personalized experience begins with a pickup from your hotel by a Ramasside Tour guide, who will ensure a comfortable and informative journey. Engage with your guide to learn about the fascinating aspects of the tour and the rich history of the sites.
Itinerary Highlights:
Start at the Great Pyramids and enjoy panoramic views.
Explore the Sphinx and the Valley Temple, with numerous photo opportunities.
Return to your hotel with insights into Cairo's culture and history, and options to customize your itinerary further.
Tour Inclusions:
Customizable itinerary to suit your preferences.
All transfers in a modern, air-conditioned van.
Services of an expert tour guide.
Entrance fees to all mentioned sites.
All service charges and taxes.
Exclusions:
Any extras not mentioned in the itinerary.
Tipping (optional).
Special Enhancements:
Upgrade to a luxury van for a more comfortable journey.
Optional lunch at the Pyramid Views Luxury Restaurant ($30 per person, reservation required).
Professional photographer service available ($50 per day).
Tour Tips and Advice for Travelers:
Wear comfortable footwear and clothing for exploration.
Bring sun protection like a hat, sunscreen, and sunglasses.
Carry local currency for small purchases and tips.
Follow the guide's instructions and respect the cultural sites.
Pyramids of Giza Tour – Additional Notes:
The tour is operational daily, subject to special circumstances.
The tour can be customized according to your needs.
Book now for an unforgettable adventure exploring the Pyramids of Giza with Ramasside Tours. Experience the grandeur of these ancient wonders and create memories that will last a lifetime.