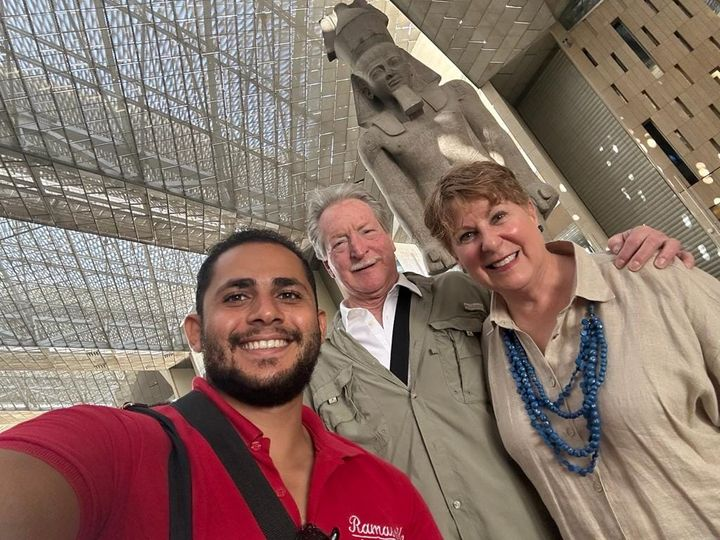 Immerse yourself in the wonders of ancient Egypt with our Grand Egyptian Museum Tour, offered daily. This half-day tour, lasting approximately 4 hours, provides an exclusive glimpse into the rich history and cultural heritage of Egypt.
Pickup Details:
Time: 8:00 am (adjustable to meet your schedule).
Tour Highlights:
Exclusive access to the limited areas of the Grand Egyptian Museum (GEM) during its trial phase.
Discover the Hanging Obelisk, the majestic Ramses II Statue, and other significant artifacts.
Experience the grandeur of the Grand Hall and engage in interactive activities.
Enjoy a serene stroll through the museum's exterior gardens.
Tour Pricing:
Single: $120
2-3 Persons: $90 per person
4-6 Persons: $85 per person
7-10 Persons: $80 per person
Why Choose This Tour? Your journey begins with a warm welcome by your Ramasside Tour guide, identifiable by a Ramasside sign, ensuring a personalized and informative experience.
Itinerary Highlights:
Start with the museum's exterior gardens, appreciating the architectural elegance.
Enter the Grand Hall, where you'll find an array of informative displays and exhibits.
Participate in interactive activities to deepen your understanding of Egypt's heritage.
Follow your guide through limited-access areas for unique insights into the museum's layout and design.
Tour Inclusions:
All transfers in a modern air-conditioned vehicle.
Expert guidance from a knowledgeable tour guide.
Entrance fees to all mentioned sites.
All service charges and taxes.
Exclusions:
Any extras not mentioned in the itinerary.
Tipping (optional).
Advantages of Booking with Ramasside Tours:
Benefit from experienced tour guides offering in-depth insights.
Comfortable, hassle-free transfers in air-conditioned vehicles.
An all-inclusive package covering entrance fees, service charges, and taxes.
Customizable tour options to suit your preferences.
Traveler Tips and Advice:
Wear comfortable attire and footwear for ease of movement.
Carry a camera for memorable photographs.
Stay informed about the official opening date of the Grand Egyptian Museum.
Respect the museum's cultural significance by adhering to its guidelines.
Grand Egyptian Museum Tour – Additional Notes:
This itinerary caters to the limited-access phase before the museum's official opening.
The tour can be customized, including pickup time adjustments.
Keep updated with the latest developments and announcements regarding the museum's full opening.
FAQs: Q: How long is the tour? A: Approximately 4 hours, typically in a half-day format.
Q: Can the tour be customized to include other attractions? A: Yes, Ramasside Tours offers customization to tailor the tour to your interests.
Q: Are meals included in this tour? A: Meals are not included, but you can enjoy breakfast or coffee at the museum's commercial area.
Embark on this enriching Grand Egyptian Museum Tour for a captivating journey through Egypt's ancient history. Book now for an extraordinary adventure and receive instant confirmation upon clicking the "Book Now" button.