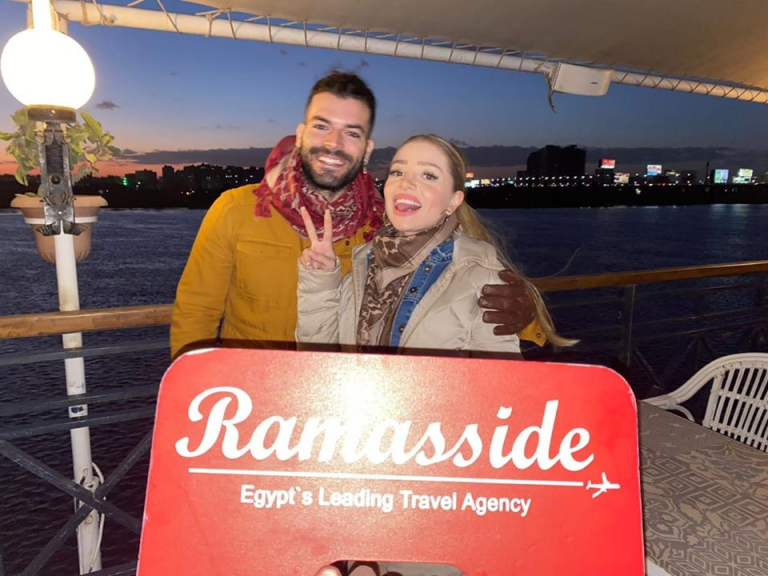 Embark on a delightful 3-hour Dinner Cruise on the Nile, available every day. This enchanting evening combines gourmet dining, entertainment, and the mesmerizing scenery of the Nile River.
Pickup Details:
Time: 6:00 pm (adjustable to your preference).
Tour Highlights:
Savor a 5-star open buffet dinner while cruising on the Nile.
Enjoy a captivating belly dance performance and an oriental show.
Experience the allure of Egyptian folklore through music and dance.
Tour Pricing:
Single: $75
2-3 Persons: $55 per person
4-6 Persons: $50 per person
7-10 Persons: $45 per person
Itinerary: A Ramasside Tours representative will pick you up from your hotel and transport you to a luxurious 5-star Nile Cruise. Your evening will be enriched with a belly dance and oriental show, featuring traditional Egyptian music and folklore dances. While indulging in a sumptuous open buffet dinner, you'll be treated to western music and a folklore show, making for a memorable night under the Egyptian sky. The cruise typically starts between 6:30 pm and 8:30 pm, subject to your preference and availability.
Inclusions:
Belly dancer and Oriental Show.
5-star open buffet dinner.
All transfers in an air-conditioned vehicle.
Folklore show.
All service charges and taxes.
Exclusions:
Beverages (not included in the tour price).
Any extras not mentioned in the itinerary.
Join us for an unforgettable dinner cruise on the Nile, where the heart of Egyptian culture beats with every wave. Book now to immerse yourself in an evening filled with culinary delights, entertainment, and the enchanting views of the Nile.