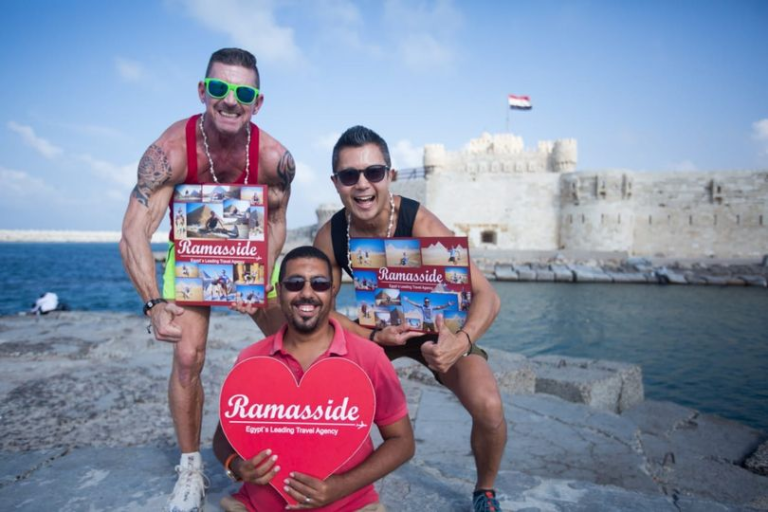 Embark on an enthralling 12-14 hour day trip to Alexandria from Cairo Airport, delving into the rich archaeological treasures of Egypt's coastal city. Available daily, this tour is designed to uncover the historical wonders of Alexandria.
Pickup Details:
Time: 7:00 am (adjustable to fit your schedule).
Tour Highlights:
Discover the underground Catacombs of Kom El Shokafa.
Enjoy a photo stop at Pompey's Pillar.
Explore the Roman Amphitheater and sunken monuments of Alexandria.
Visit the renowned Library of Alexandria and its Manuscripts Museum.
See the Castle of Kaitbey and the charming old harbour of Alexandria.
Explore El Nabi Daniel Mosque, believed to be connected to Alexander the Great's tomb.
Visit St. Mark's Church, the oldest church in Africa.
Stroll through the old city-center of Alexandria.
Admire the grand Abbo Elabbas Mosque.
View the site of the ancient Lighthouse, one of the Seven Wonders of the Ancient World.
Experience the Stanley Bridge.
Tour Pricing:
Single: $145
2-3 Persons: $95 per person
4-6 Persons: $85 per person
7-10 Persons: $80 per person
Itinerary:
Your journey begins with a pickup from your Cairo hotel. Travel to Alexandria and start with the Catacombs of Kom El Shokafa, followed by the Roman Amphitheater and Pompey's Pillar. Visit the Library of Alexandria, St. Mark's Church, El Nabi Daniel Mosque, and more, each offering a unique glimpse into the city's past.
Inclusions:
Entrance fees to all sites.
All transfers in an air-conditioned vehicle.
Expertise of an experienced tour guide.
All service charges and taxes.
Exclusions:
Any extras not mentioned in the itinerary.
Enhancements and Recommendations:
Upgrade to a luxury van for added comfort and space.
Optional lunch at a sea view restaurant (additional $15 per person, reservation required).
Professional photographer available ($50 per day).
Tour prices are quoted in USD, but payment in Euro or British Pound is also accepted.
FAQs:
Duration: The day trip lasts approximately 10 to 12 hours, including round-trip travel from Cairo.
Transportation: Comfortable, air-conditioned vehicles are used for the tour.
Meals: Meals are not included but can be arranged at an additional cost.
Customization: The tour is flexible and can be customized to meet your interests.
Discover the enchanting city of Alexandria with its rich history and stunning archaeological sites. Book now for an unforgettable day trip from Cairo.