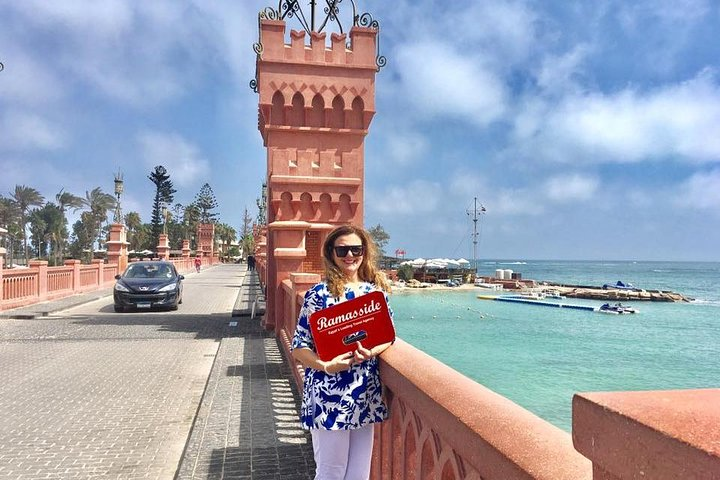 Embark on a captivating journey from Cairo Airport to Alexandria, Egypt's historic Mediterranean city. Our Alexandria Day Tour, available daily, spans approximately 10-12 hours, providing a comprehensive exploration of this ancient yet vibrant city.
Pickup Details:
Time: 7:00 am (adaptable to your schedule).
Tour Highlights:
Visit the renowned Library of Alexandria and its open court.
Explore St. Mark's oldest church and the Roman Amphitheater.
Enjoy a walking tour in Alexandria's old city-center.
Visit significant landmarks including Abbo Elabbas Mosque, the site of the Lighthouse, Quaitbay Castle, Stanley Bridge, and El Nabi Daniel Mosque.
Tour Pricing:
Single: $120
2-3 Persons: $75 per person
4-6 Persons: $70 per person
7-10 Persons: $65 per person
Itinerary Overview: After pickup from your Cairo hotel, your first stop will be the Library of Alexandria. Next, you'll visit the Roman Amphitheater, followed by St. Mark's Church, the heart of Coptic Christianity in Africa. Walk through Alexandria's bustling old city-center, immersing yourself in its rich history and culture.
Your tour continues to the El Nabi Daniel Mosque, believed to house the tomb of Alexander the Great. Savor the option of lunch at a renowned local eatery, experiencing authentic Alexandrian cuisine.
Discover the vibrant market area in Mansheya and the striking Abbo Elabbas Mosque. Witness the historic site of the ancient Lighthouse, one of the Seven Wonders of the Ancient World, and enjoy a photo stop at the picturesque Quaitbay Castle.
Conclude your tour with a stroll along the Maamourah corniche and a visit to Stanley Bridge, before returning to your hotel in Cairo.
Tour Inclusions:
Expert tour guide services.
Entrance fees to all mentioned sites.
All service charges and taxes.
Optional Enhancements:
Upgrade to a luxury van for a more comfortable travel experience.
Optional lunch at a sea view restaurant ($15 extra per person).
Professional photographer available ($50 per day).
Tour and Pricing Notes:
Prices are in USD, with payment options in Euro or British Pound.
Tours can be semi-private or fully private upon request.
FAQs: Q: How long is the Alexandria day tour from Cairo? A: Typically 10-12 hours, including round-trip travel from Cairo.
Q: What transportation is used for the tour? A: Comfortable, air-conditioned vehicles suited to the size of your group.
Q: Are meals included in the tour? A: Meals are optional, with opportunities to try local cuisine.
Q: Should I carry local currency? A: It's advisable for small expenses, snacks, or tips.
Q: Can I customize the tour itinerary? A: Yes, we offer customization options.